Discover more from Oscillating in Metaverse
Oscillating in Metaverse is a weekly newsletter. With each edition, we bring you news around, across, and in the metaverse.
Oscillating in Metaverse #2
Top metaverse news for this week (Aug 14 to Aug 20)
This is the second edition of my newsletter. In this week's rundown we are discussing the news from various organizations that are building, launching, and keep an eye on the metaverse. So, are you ready to oscillate in the metaverse with me?
Metaverse: an additional world, not a replacement of the physical world
We have been hearing a lot about how revolutionary metaverse is and the possibilities of metaverse throughout this time. Leading tech businesses are busy building a world beyond Zoom meetings and collaboration tools such as Meta's Horizon Workrooms, Microsoft's Mesh, and Arthur are huge in talks. However, a recent report from HBR states that though metaverse will enhance the experience, it is insufficient to replace the deeper level connect of the physical world.
Mark Zuckerberg's selfie goes flop on the internet
Mark Zuckerberg posted a selfie from Horizon Worlds, their metaverse property launched in France and it got a lot of attention but for all the wrong reasons. Zuckerberg's avatar was a laughing stock on the internet as it has a baby face and weird eyes. If that doesn't disappoint enough, the avatar still doesn't have legs. The post also features the Eiffel tower in the background which is, for some reason, smaller than Zuckerberg's avatar. Ironically, the graphics are worse than kindergarten rhyme videos.
Overall, the picture is giving us a bad hangover vibes. If Meta spent $18 billion on a this, they need to reconsider their understanding of metaverse altogether. Twitterati made fun of the photo, explaining how badly Meta missed the bus.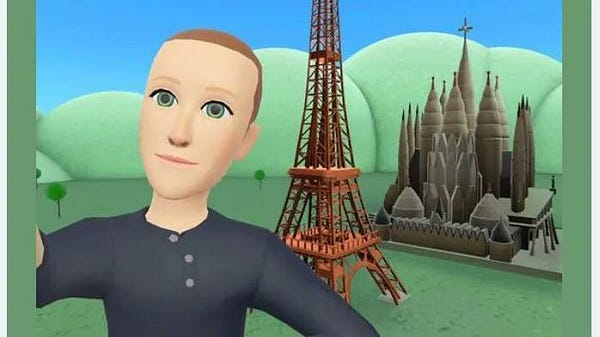 Another twitter user wrote:
Seems like Vitalik Buterin's comment that 'anything Facebook creates now will misfire' is true, only for different reasons though.
Crime is a major concern in the metaverse
In a recent article release, World Economic Forum has raised concerns over crime in the metaverse. It sites a report by Gartner that predicts by 2026, 25% of the world population will spend at least one hour a day in the metaverse. People are already been duped of phishing scams, theft of wallet keys, and deep fake technology.
The organization recognises a three-fold shared responsibility for tackling it. It called out to policy makers for a need to introduce regulations. The article alarmed organization working in the metaverse to collaborate with the security and risks teams for identifying possible vulnerabilities as early as possible. It also mentions that end users need to familiarize themselves with the possible threats and safeguard themselves from social engineering and psychological effects of using this technology.
Read the complete article here.
Thanks for reading Oscillating in Metaverse! Subscribe for free to receive new posts and support my work.